Is your patio ready for summer? Your outdoor patio should feel like the perfect retreat during the long, hot days of summer. There are so many ways to enjoy your outdoor patio, whether you're hosting backyard parties or taking a dip in the pool. Make sure your patio is ready for you to unwind.
Find your perfect outdoor space with these patio design ideas.
Zen Garden Patio Design Idea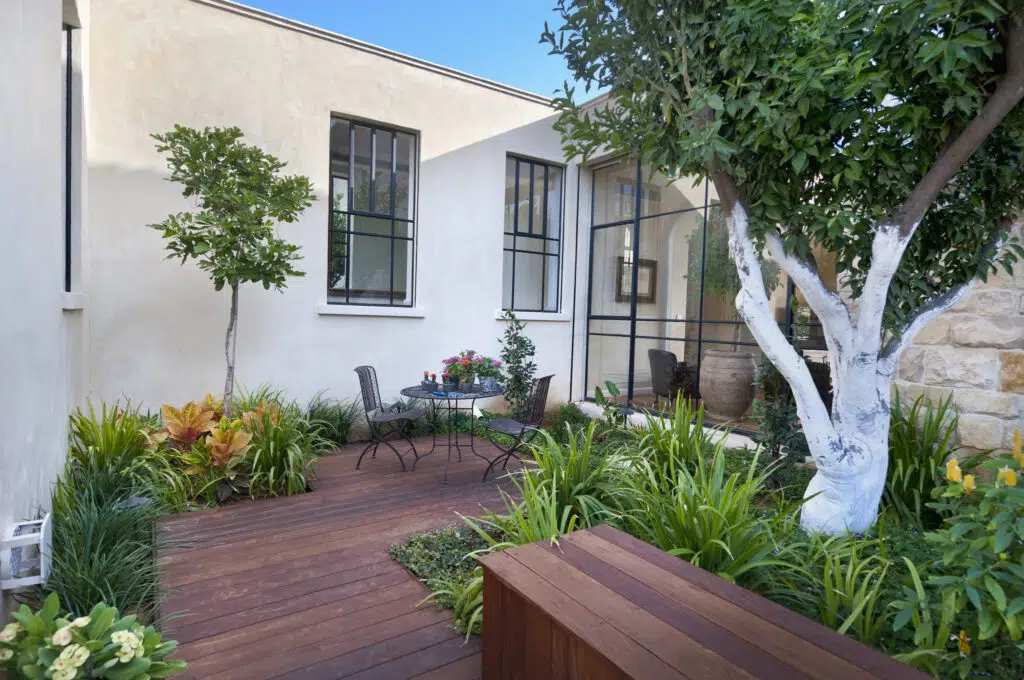 Stepping onto your patio can feel like walking into an outdoor zen spa. This patio design idea is easy to create using just a few key garden plants and decor.
For creating your zen patio design we recommend warm wood colours and lots of greenery. A wooden deck will provide a natural and inviting space to relax. On your patio deck, add pots that are neutral in colour and appear natural, such as a dark stone or clay pot. Focus on deep green plants such as shrubs or tall ornamental grasses for a gentle and earthy theme. Japanese maple trees, palm trees, or bamboo shoots can add that perfect element of spa to your outdoor patio design.
Poolside Retreat Patio Design Idea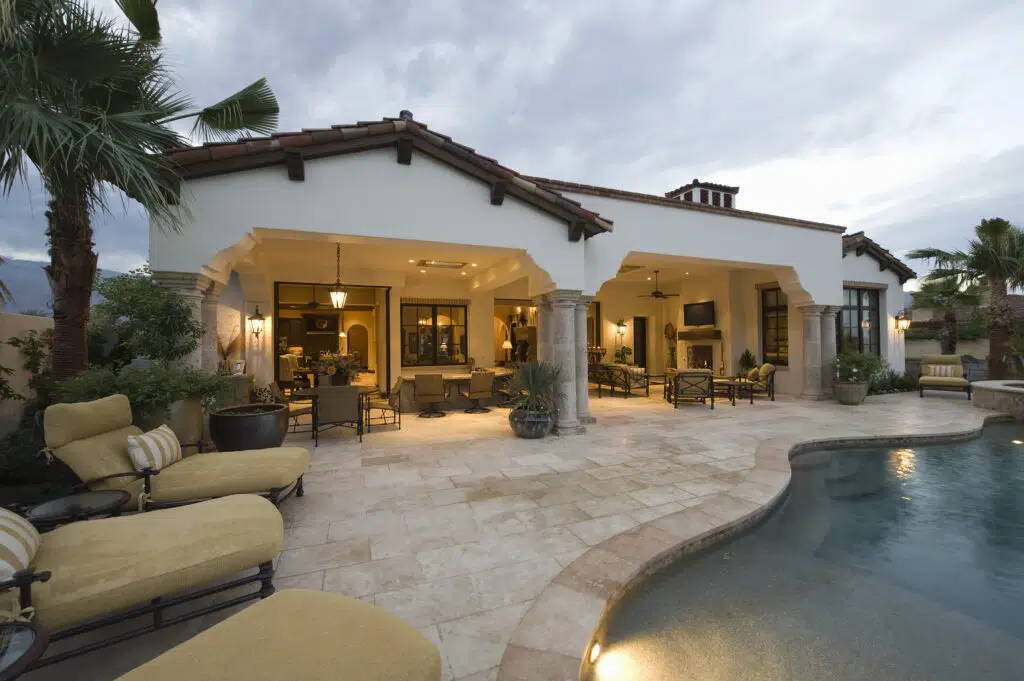 Looking for a summer vacation in your own backyard? Styling your poolside patio can give you the summer vacation lifestyle of your dreams. You'll want to kick back with a chilled drink on those hot summer days with this patio design idea.
Styling your poolside patio into your summer retreat is all about lounging under the sun. Combine lounge chairs under the sun with table seating under a shady umbrella or tree for outdoor options that keep you comfortable all day long. Choose a stone patio or a deck made of composite or plastic for water resistance and durability. Complete this patio design idea with chic storage chests for pool toys, bright floral cushions, and large leafy plants. You'll feel like you've traveled to a far away resort, right in your own backyard!
Cozy Cottage Patio Design Idea
Curl up with a good book and enjoy outdoor living in your own cottage patio design.
Whether it's a campfire under the stars or a lazy afternoon nap outside, a cozy cottage patio design will be your favourite place to hang this summer. Combine light and pastel colours with fresh green foliage to achieve a dreamy cottage backyard design. A stone patio will be the perfect area for outdoor sofas and seating. Add warm lighting and a fire pit for summer evenings you won't forget. This patio design idea is complete with flower landscaping and rustic accents.
Modern & Minimal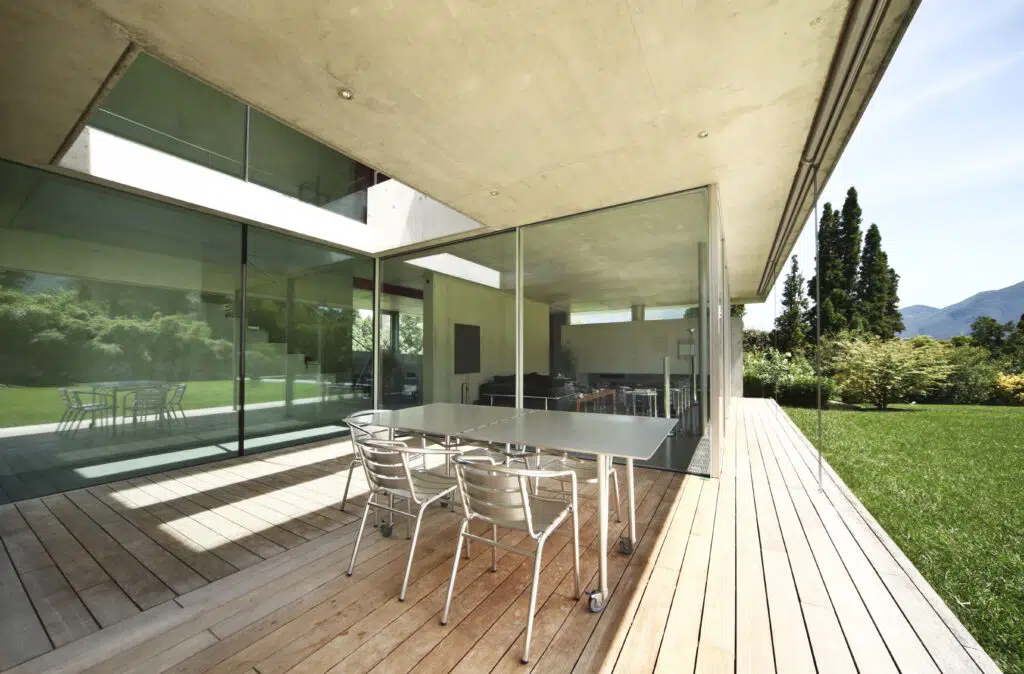 Summer life can get busy with outdoor adventures. You can simplify your life by styling a modern and minimal patio design.
Less is more when creating a sleek and minimal patio design. Stick with clean lines and simple geometric shapes for planters and furniture. Round shrubs and solid outdoor furniture will be staples for this patio design idea. Choose cool and neutral tones such as gray, white, black, or dark browns. Your patio floor can be aluminum or concrete for that ultra-modern look. This patio design idea can be personalized by combining just 3 to 5 simple plant variations
Dinner Party Dreams Patio Design Idea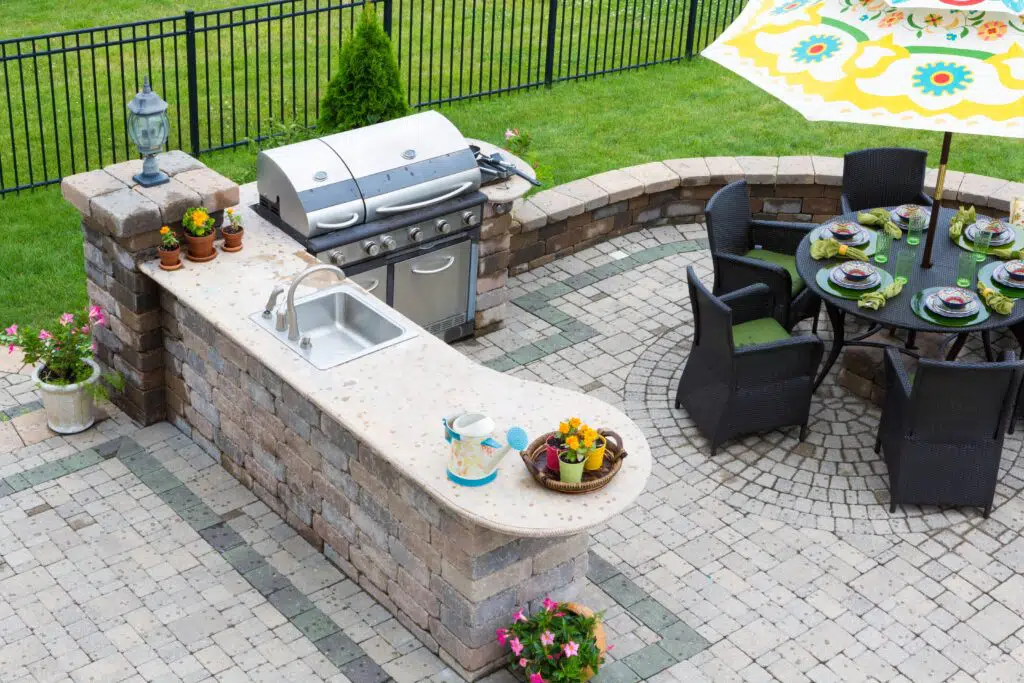 The best summer memories are made when hosting family and friends for outdoor dinner parties! Get your patio ready for summer parties by putting together the ultimate outdoor party pad.
The secret to a perfect patio party is tons of comfortable seating. Large outdoor sectional sofas, long patio tables, and cushioned benches will invite your guests to get comfortable and unwind together. Your patio deck should be made from a durable material like a hardwood, composite, or aluminum. When you're designing your layout, create various spaces and nooks that can invite people to gather for intimate conversations. A few backyard games on hand is never a bad idea either! Adding starry lights to this patio design idea will let the party continue way past sundown.
Now is the perfect time to start your patio renovations. Use these patio design ideas to help inspire the backyard sanctuary that is perfect for your home.